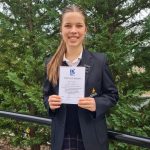 On Sunday, 29 May, Year 11 student Layla K competed in the Rostrum Voice of Youth speaking competition. A prestigious national competition, Rostrum provides secondary students with an opportunity to voice concerns on matters they are passionate about, and
hone public speaking skills in a competitive arena.
Layla selected the topic 'Change the Narrative', presenting a prepared speech where she explored the limitations and expectations of women in sport, and the implications of this on youth. The field was incredibly competitive, and Layla's presentation was excellent. Although she did not advance to the next round (only the top two competitors advanced), she represented Norwood SC to a high standard with excellent feedback from the
adjudicator on her performance. Well done, Layla!